RECIPE project offers an open webinar which seeks to report and review the findings of the first project period per each natural hazard about Factors and Components of Risk, Civil Protection Requirements, and Climate Change Impacts. The identified emergency management requirements to face unexpected or new risk situations posed by climate change will be linked and discussed with the experience of external experts. The outcome of the workshop will serve for the subsequent project actions.
The webinar will focus on which are the new challenges posed by climate change in natural risks management and Civil Protection from an operational perspective.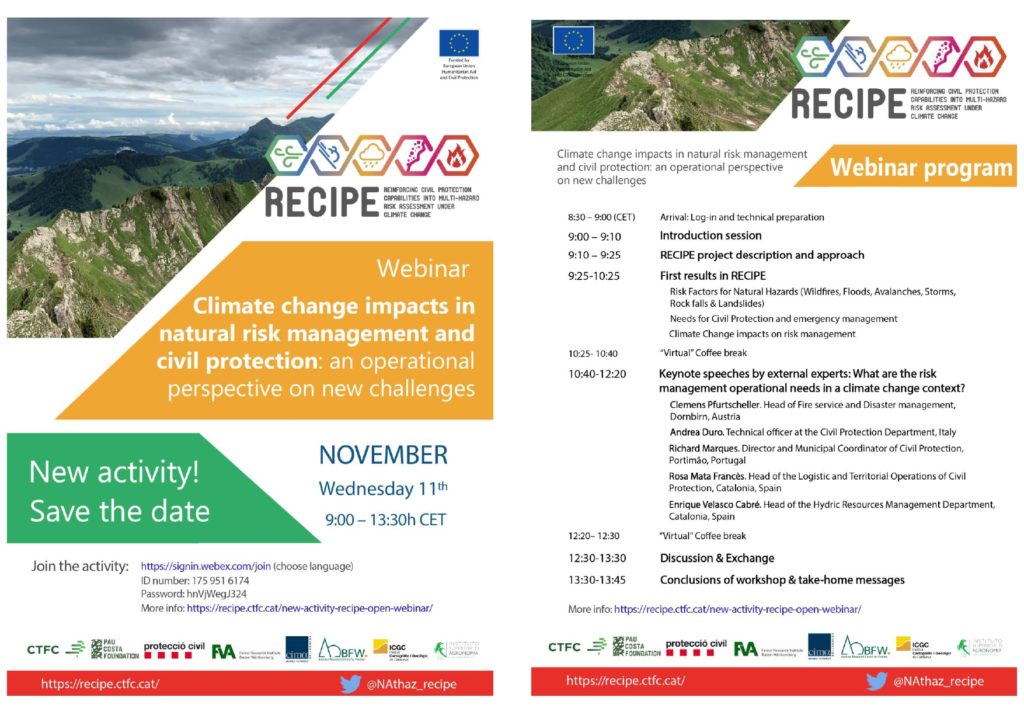 How to participate?

The meeting will be hosted with the web conferencing platform Webex.
To join the meeting, visit https://signin.webex.com/join and choose your language in the top right corner.
Then type in the conference identification number and password:
Conference identification number: 175 951 6174
Password: hnVjWegJ324
Please log-in in advance (before 9:00 am UTC+1) so we can check and solve any technical issues. Please ensure that you have a functioning headset (audio & microphone) and optionally a webcam.
If you want to complete a test run of your equipment, please visit https://www.webex.com/test-meeting.html in advance.
In case of any technical problems or other questions, please do not hesitate to contact us.
Complete program
Here you can find the complete program.