An introduction to general concepts of risk and crisis management opened the 1st workshop. The goal was to clarify the used terminology and concepts within the RECIPE project and to generate a common understanding of risk dimensions and introduce the crisis management cycle.
The key aspects of risk management were demonstrated in an entertaining presentation by Dr. Christoph Hartebrodt (FVA, Germany), using chicken eggs, a pan and protective equipment. The main outcomes were that risk is mostly related to underlying goals, which is also reflected in an international norm: According to ISO 31000:2018 – Risk management, risk is defined as the "effect of uncertainty on objectives".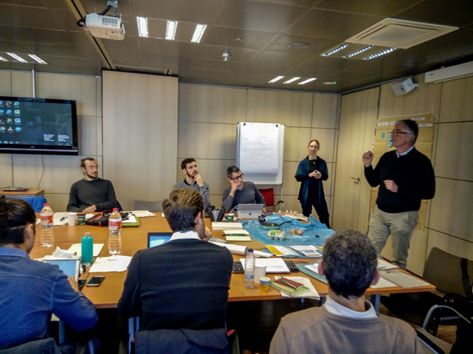 Further, the difference and interrelation of risk management and crisis management were touched upon. Here it became clear that risk management is a continuous process of regular business procedures, where all sort of potential risks are assessed and evaluated, while crisis management is addresses one specific type of hazard scenario and tries to develop concrete actions to prevent, prepare and respond to a crisis. It was pointed out, that in the international context the term 'disaster risk' is used frequently interchangeably with the term 'crisis'. The different phases of the crisis management cycle were elaborated more in detail.
It turned out to be very beneficial to discuss and agree upon a common language and clarify some key concept at the start of the project.